DietMaster Pro has been successfully servicing some of the largest higher educational institutions across the country but also junior and high school levels. Educational text book publishing companies are also resellers of our DietMaster products and used by authors looking to integrate nutrition tools within their instructional course curriculum.
Our DietMaster Web and Go Mobile products enable students to log food intake so that compiled nutritent data and various reports can be produced for viewing online, printing or emailing.
Or DietMaster Go mobile app can be used as a convenient method for journaling. Our educational offering can also be customized to hide student names to protect privacy and a comprehensive administrative dashboard to track and view utilization.

Customizable Experiences
Customize emailed greetings to clients
Add custom foods for clients
Add custom recipes for clients
Add custom documents for clients
Change graphics & colors
Design custom meal plans

Sleek Admin Interface
Food Barcode Scanner
fitbit wearables syncronization
Daily inspirational messages to app
Video tutorial training
Chat customer support

Integrated Communication
Coach messaging system
Customize emailed greetings to clients
Contest module
Client population body comp reports
Contest reporting

Optional Transaction Processing
Sell memberships and services online with our optional Total Business Solution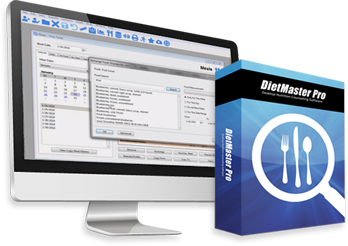 DietMaster Pro Desktop Software
Enter unlimited profiles and plans
Create meal plans from scratch
Access optional pre-built meal plans
Time saving features
Copy from and modify pre-built templates
Email PDF reports to clients
Copy from and modify pre-built templates
Create custom recipes
Upload client and meal plans to optional web & mobile platform
Print report with your company logo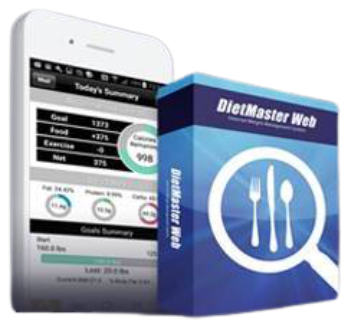 DietMaster Web & Go Mobile
Deliver meal plans and grocery list via web and smart phones
Access optional pre-built meal plans
Track usage
Monitor food and exercise logs
Syncs with most all wearable tracking devices
White label branding options
Optionally, sell access online