---
Total Business Solution
What is the Total Business Solution?
Are you wanting to sell nutrition services online to individuals or to other businesses? Our new Total Business Solution is a completely integrated product which combines branding, online commerce processing, recurring billing and customer management tools all in one! TBS (Total Business Solution) gives you the power to sell services online not only to individuals but also to other businesses such as health clubs, personal trainers, corporate wellness providers, schools and even doctors. The TBS package can be added to your existing web site or a new web site.
---
---
The Solution To a Problem
For the past 30 years in business, we have been selling our products to businesses who have wanted to integrate our platform with an existing platform to create a seamless solution and customer experience. Many of our customers want to process payments and grant access online. Unfortunately for many of our customers, hiring a skilled and qualified web site developer to integrate our platform into an existing web site can be challenging, frustrating and costly. So much so, we have lost customers who never were able to complete an integration correctly, or at all. TBS is a cost effective and efficient solution to this business need. We have developed a scaleable model for all businesses sizes and industries.
---
---
Build Your Own Solution
The following features are available in our TBS offering. Select which ones are right for your business and speak to a TBS Product Specialist about building a solution that is uniquely yours.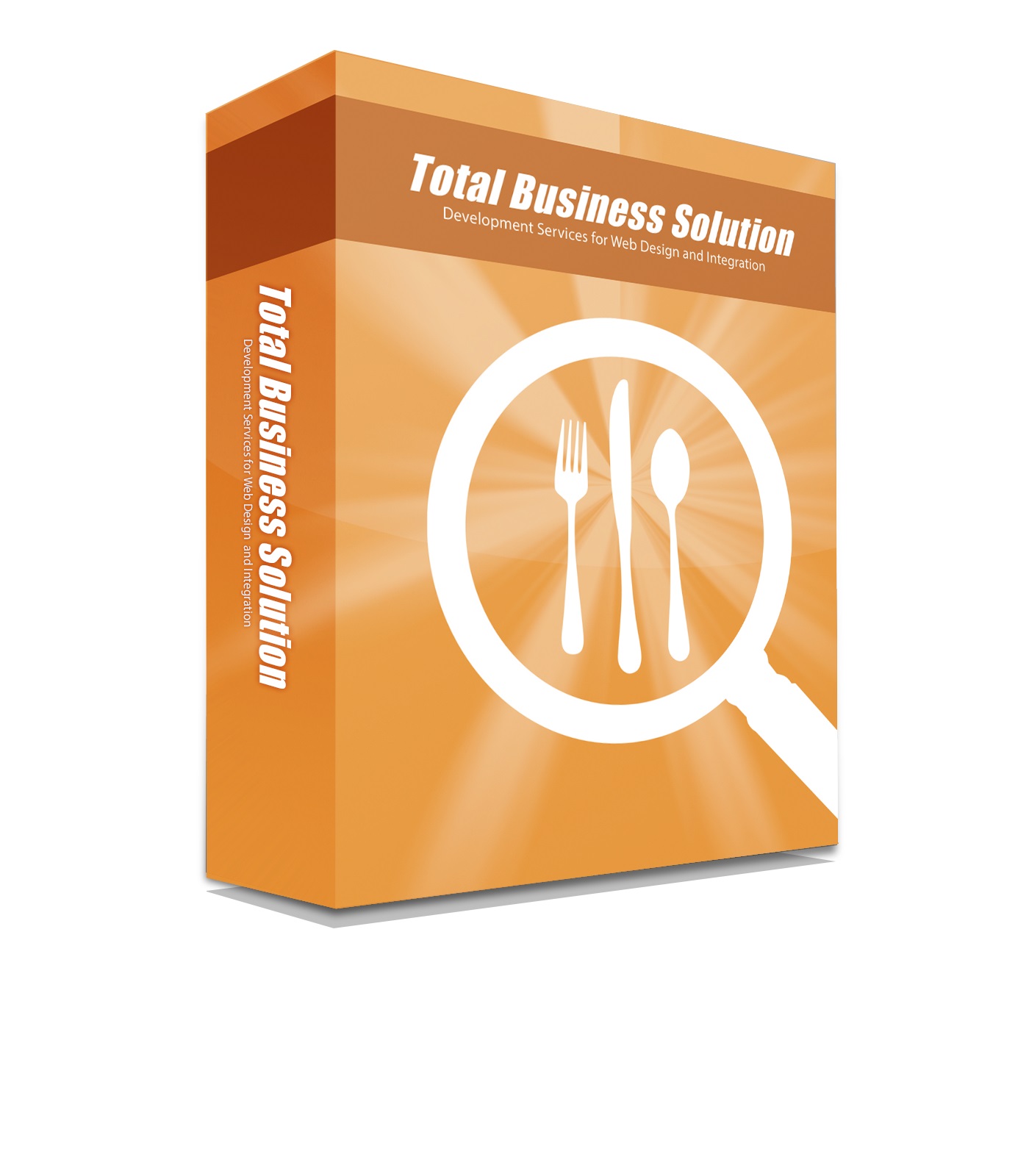 ---
Mobile Branding - your app listed on iTunes & Google
Web Portal Branding - your domain, graphics & content
Payments - process payments online
Recurring Billing - auto process recurring payments
Live Chat - add chat messaging to your web site
Reporting - sales trends, activity, revenue
Web Site - we build your complete front end content
CRM Module - manage your customers
DietMaster Web Integration
Business Module - resell to other businesses
Consumer Sales - sell to consumers
Quickbooks - export transactions utility
---
Find The Package That's Right For You
Package 1
B2C - resell to consumers
B2B - resell to businesses
$4,995
If you do not currently have a web site … and are interested in our mobile branding, our web site design and integration service, we can offer the following features and modules:
Front end web site design
Online payment processing*
Process auto recurring payments
Process one-time payments
DietMaster Web integration
Membership module
Integrated CRM module
Reporting & Export to Quickbooks
Mobile branding
Listings on iTunes & Google Play
Get Started »
Package 2
B2C - resell to consumers
$3,695
If you already have an existing web site ... and are interested in our mobile branding service and our integration service , we can offer the following features and modules:.
Online payment processing*
Process auto recurring payments
Process one-time payments
DietMaster Web integration
Membership module
Integrated CRM module
Reporting & Export to Quickbooks
Mobile branding
Listings on iTunes & Google Play
Get Started »
Package 3
B2C - resell to consumers
$2,195
If you already have an existing web site … and have already purchase our DietMaster Go mobile branding services, we can implement our integration service inclusive of these features and modules:
Online payment processing*
Process auto recurring payments
Process one-time payments
DietMaster Web integration
Membership module
Integrated CRM system
Reporting & Export to Quickbooks
Get Started »
---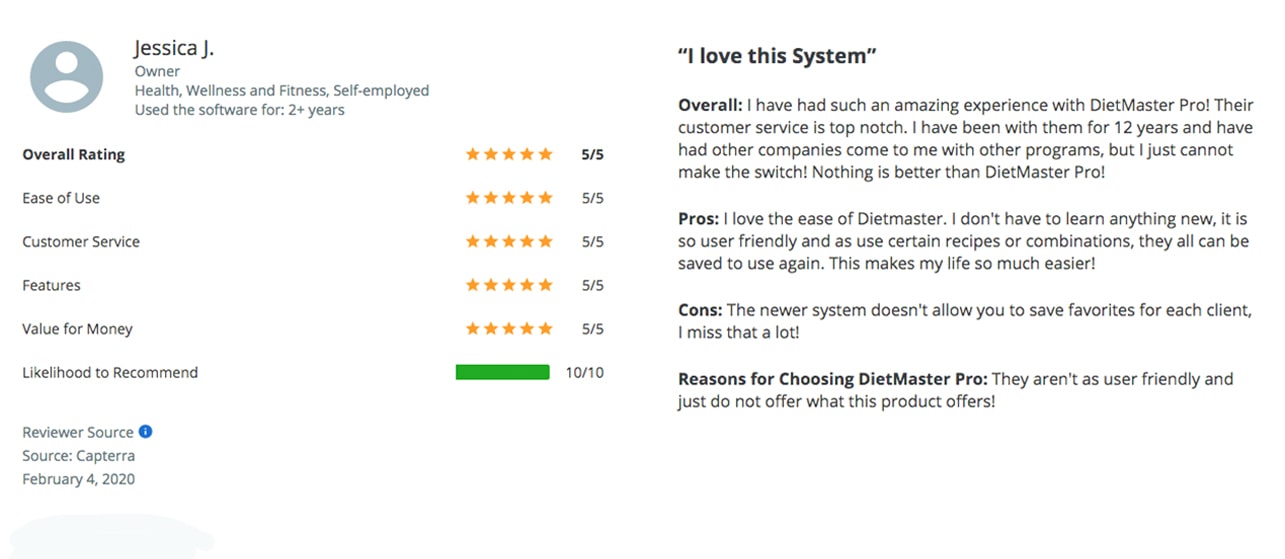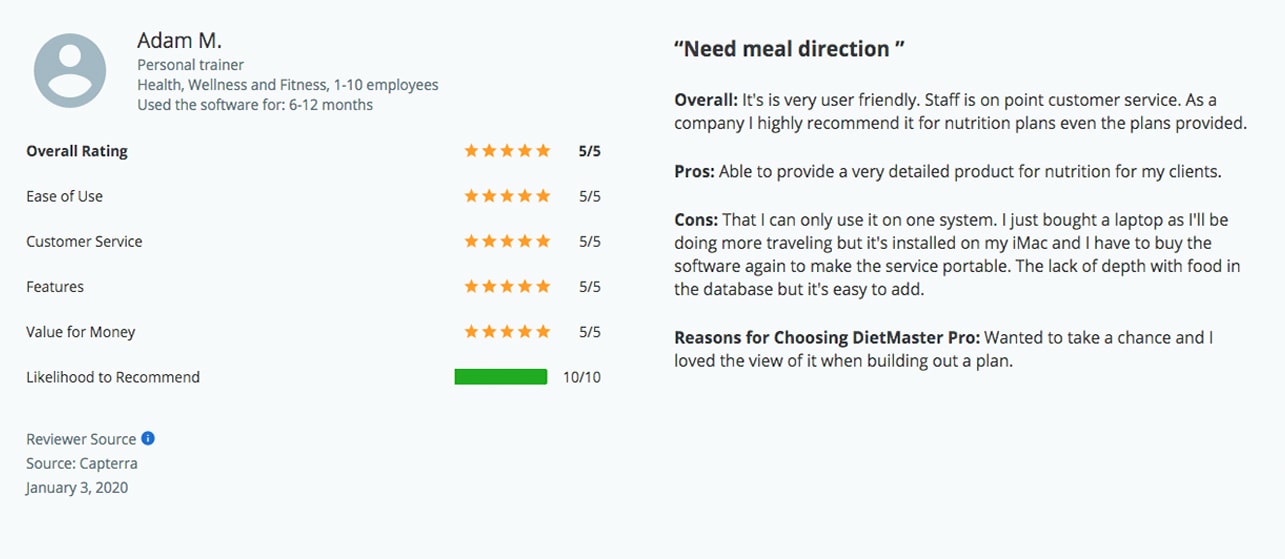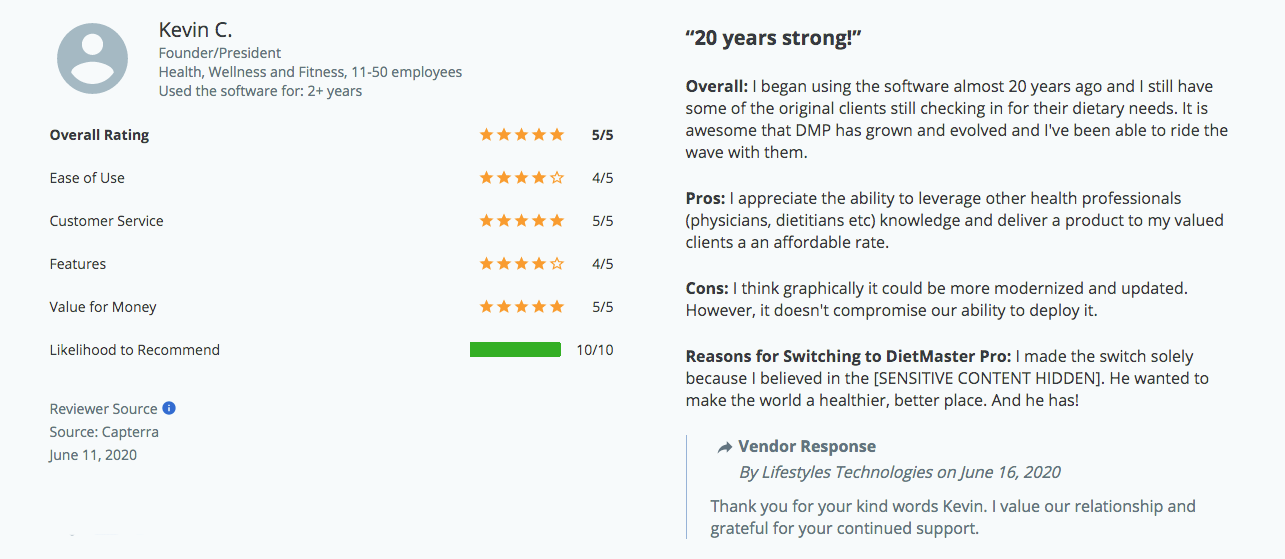 ---
" This Software is Incredibly Customizable
Allowing you to set up just about any meal plan you can think of! This is a huge benefit if you are serving a large number of diverse clients with diverse needs! I love that if you have a favorite meal this allows you to save it, which really cuts down on time! The meal plans by registered dieticians are also a huge plus! Also, the customer service is top notch!"
--Isley Unruh