DietMaster Pro - Professional Weight Management and Nutrition Software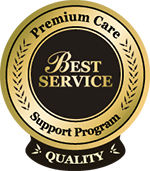 No matter if you are a health club owner, personal trainer or medical practitioner, DietMaster Pro will help you transition easily into the weight management consulting business.
DietMaster Pro can produce R.D. designed meal plans and grocery lists within minutes, create meal plans from scratch, as well as track weight control goals and produce nutritional assessments. Version 12 also includes our Contest Module, a turn key solution to launch your very own "big loser" type of competition. You can also add your company logo and header to give reports the professional appearance you have been looking for. DietMaster Pro Nutrition Software is now available in both PC and Mac editions.
DietMaster Pro Version 12 - $499.00
The complete version of DietMaster Pro includes the items listed below. After your order is processed you will be able to download the program and begin using it. Then the packaging will be mailed to you based on the shipping method you select.
Features Summary & Comparison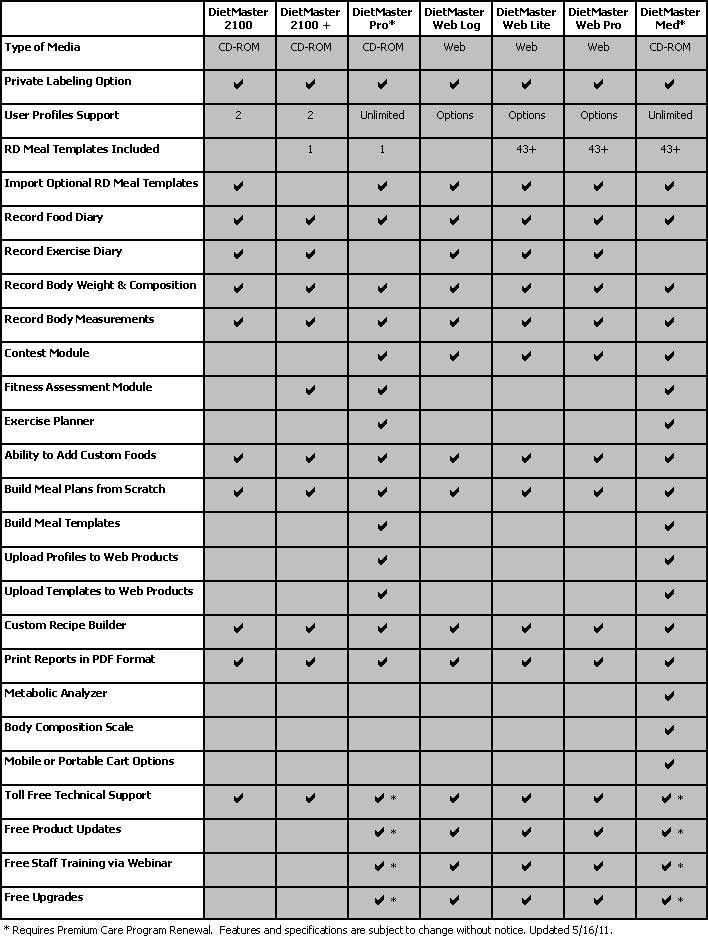 System Requirements
Minimum Hardware Configuration
It is recommended that a 586 or Pentium class processor be used with a minimum of 32mb RAM, hard disk drive with at least 30mb of free disk space, mouse or other pointing device and SVGA color monitor with a .28mm dot pitch.
PC Users
Diet Software System RequirementsYour computer must be running under the Microsoft Windows graphical user interface operating system (OS). The following versions are supported:
Windows XP
Windows Vista
Windows 7
Windows 8
Note: We cannot quarantee the functionality of our software products on the Windows 95, 98, NT, & 2000 platforms since support has been discontinued by Microsoft.
Mac Users
the following versions of Mac operating systems (OS) are supported:
Panther
Tiger
Leopard
Snow Leopard
Lion
Mountain Lion
Return Policy
Due to the sensitive nature of software media
all software purchases are non refundable unless otherwise stated
. Special conditions may apply. All licensed software products activated using the 25 digit product key provided at time of purchase cannot be returned nor refunded. Products approved for refund or return may be subject to a restocking fee. Ask your customer service representative for more details.
All hardware returns will be subject to a 35% restocking fee and must be returned within 30 days from the delivery date. All items must be returned in the original manufacturer's box or packaging or refunds will be refused. Please call to receive a Return Materials Authorization (RMA) number prior to returning your product.
Basic Package Includes
Download for Immediate Use
X
CD ROM Media
X
5 ready-to-print RD designed meal plan calorie ranges with grocery lists
X
Multi Media Tutorials
X
Business Paperwork
X
One Year Premium Care Support Program

Free updates
Free webex training classes (long distance charge may apply)
Free technical support

X
Download a 15-Day Trial
Take it for a free test drive with our 15-Day fully functional trial version.
What Does It Do?
DietMaster Pro allows you to perform these primary dietary functions:
Perform dietary analysis of an individuals current eating habits to identify shortfalls, over-consumption and deficiencies in vitamins and minerals. This service typically justifies why the client should contract with a DietMaster Pro consultant to provide weight management services.
Build meal plans from scratch using foods from the database or new foods you have added into the system
Copy meal plans into the clients folder using the PhD approved meal plans. These save time, provide credibility and limit the liability of the weight management consultant.
Perform and evaluate fitness assessment tests. These include Cardiovascular, using simple step up or bike tests, Strength, using sit up or push ups, and Flexibility, using sit and reach method.
What Is The Consultation Process?
Typically the process begins with the dietary analysis. This provides the client with an "eye-opening" experience when they understand more about their eating habits. During this process two reports are generated. The first is the dietary analysis that compares the current intake of calories, protein, carbs and fats to the intake that DietMaster Pro has recommended (you can also override the systems recommendations of calories, ratios and RDAs). The second report is the nutrient analysis that identifies deficiencies in vitamins and minerals from the clients current food intake. During the initial consultation body composition testing is performed, goals are set and body measurements are taken.
After the analysis work is completed the DietMaster Pro consultant can select the proper PhD meal plan template that best suits the clients dietary needs to meet their goals. The meal plan is copied into the clients folder and can be modified if desired. The consultant also has the ability to build meal plans from scratch. Meal plan reports and grocery lists are printed and given to the customer to follow for a period that averages 2-3 weeks.
Follow-ups are typically every 2-3 weeks and consist of updating the clients profile within DietMaster Pro, provide food alternatives using the exchange list, and visit the goals and tracking module to confirm that the rate of loss/gain is consistent with the goals set.