License Transfer & Activation
This page provides step by step instructions for those of you who wish to perform the following (print this page for your reference):
Transfer your DietMaster Pro license from one computer to another using the same operating system. IMPORTANT!

Please make sure you back up your database prior to transferring your license or YOU MAY LOSE YOUR DATA. You will need to copy the file DMASTER32.DDB to a CD or an external drive. If you are transferring from a PC to a Mac or Mac to a PC, please contact our office for upgrade options.

Re–activate your DietMaster Pro license due to a system crash or restore.
Note - Your DietMaster Pro software license is a single system / single user license. To purchase an additional license at a very affordable price call our sales team toll free at 888-286-7677.
Step #1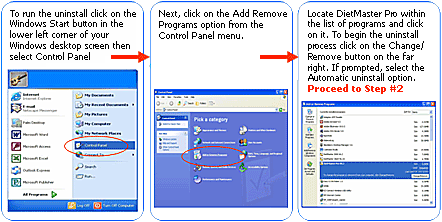 Even if you have restored your system or had a system crash, run the uninstall program to make certain all Windows System files have been refreshed and all DietMaster Pro component files are removed. If you are moving the software from one computer to another, you will need to perform this step on the computer where the software was installed (old computer).
Proceed to Step #2.
Step #2

Download and run the License Transfer Utility on the old computer. This MUST be run on the old computer where the software was originally registered (DO NOT run this on the new computer). When the utility is finished you will be prompted with a hardware ID and computer name. VERY IMPORTANT— Write this information down. You will need to provide this to a DietMaster Technical Support Agent to get your new activation key.
Click here to download the License Transfer Utility to your MyDocuments folder. Select the Save To Disk option. Once the download is completed, execute the downloaded file, LTU.EXE. Write down the hardware ID and computer name.
Proceed to Step #3.
Step #3
Next, reboot your computer. Then reinstall DietMaster Pro using your installation CD. Once the install is complete, if you are using version 6.5.1 or newer, and you are re-installing the program on the same computer, you can choose Register by Internet and complete the registration process. If you choose this option, please skip step 4. If you are installing the program on a different computer, or if you are using an older version, select the 3rd option on the registration screen to "Activate Later". This will provide you 15 days before the license requires activation.
Proceed to Step #4.
Step #4
The final step to the License Transfer and Re—activation process is to complete a form that will email specific information to the DietMaster Pro Technical Support Agent. With this information received, you will receive a call or an email from a DietMaster Pro Technical Support Agent. Please be in front of your computer and ready to reactivate your license.
IMPORTANT! Activation codes are time-sensitive and will expire by midnight the day they are issued.
Therefore, it is important that you speak to a DietMaster Pro Technical Support Agent or check your email before the end of the day for an activation code.
Questions? Contact us at 888-286-7677 or This email address is being protected from spambots. You need JavaScript enabled to view it..