RD Meal Plans - Ready To Print Meal Plans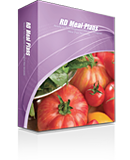 If you are wanting professional advice and want to save time, our additional meal plan offerings provide ready-to-print balanced meal planning.
Each meal plan template contains 7 days of menu plans and can be imported into DietMaster Pro and DietMaster 2100 within minutes. Users of DietMaster 2100 (home version) need to be aware that each meal plan template will take up one user profile space (home version only supports up to 5 user profiles).
RD Designed & PhD Approved Meal Plans
Diane D. Spindler PhD,ND
Based on my professional experience and qualifications I find these menus provide a nutritious and well balanced diet for individuals concerned with weight control and overall health. An added benefit to these menus is that they are tailored to individual diet preferences and needs. - This email address is being protected from spambots. You need JavaScript enabled to view it.
Kimberly A. Tessmer, RD LD
As the Registered Dietitian, on the Board of Lifestyles Technologies, Inc., I have completed a thorough nutritional assessment of the RD Meal Plans. I have evaluated all caloric levels, macronutrients and micronutrients available. As a registered dietitian I deem and approve these meal plans to be consistent with guidelines that result in safe and healthy weight loss. - Contact Kim Tessmer
Important! If you have an earlier version of DietMaster 2100 or DietMaster Pro (version 5 or lower) you will need to update your software. Click here for more information.
Series I
Series II
Series III :: Disease Prevention
Series IV :: Glycemic Management
Series V
Series VI - Low Carbohydrate
Series VII
Series VIII
Series IX - Detox & Cleanse
Medical Series - Bariatric VLCD
Medical Series - Post Lap Band
Medical Series - Childhood Obesity
Medical Series - Food Alergy
Medical Series - Maternity