Professional Nutrition Software
The best gets better! All new version 12 is now shipping with many improvements and more new features that you have been asking for. Basic package will work as a single work station or network version. Enter unlimited number of user profiles.

Premium Care Support Program - When you purchase a DietMaster Pro license you will receive one year of the Premium Care Program absolutely FREE. That means any upgrades, tech support needs or product training are free for a period of one year.
DietMaster Web is a subscription-based online meal planning, logging and exercise tool used by medical & wellness organizations, nutritionists, health clubs and fitness professionals, web-based service businesses, supplement companies and educational institutions. All web products include free access to our DietMaster Go mobile apps.
Gain instant credibility, reduce liability, save time and add value to your weight management consulting business with our newly enhanced collection of RD designed and approved meal plan templates. Each template offering provides ready-to-print balanced meal plans containing a 7 day rotation of menus that can be imported into DietMaster Pro or Web and DietMaster Go mobile products within minutes.
The DietMaster Med Metabolic Cart is the most complete and accurate weight management system available today for the medical practice. The system features an integrated metabolic measurement system and bio-electrical impedance body composition analyzer. Data from these assessment tests is then utilized within the DietMaster Pro software to produce meal plans and grocery lists designed by Registered Dietitians. Meal plans include medically supervised low calorie plans, post lap band, popular weight loss plans and food allergies.
Features Summary & Comparison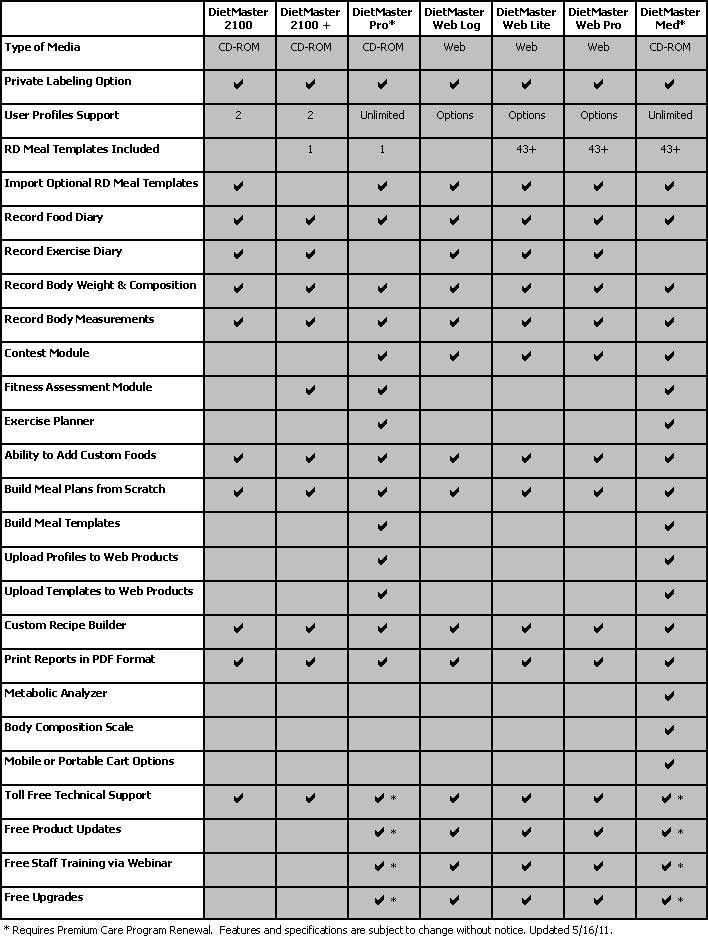 System Requirements
Minimum Hardware Configuration
It is recommended that a 586 or Pentium class processor be used with a minimum of 32mb RAM, hard disk drive with at least 30mb of free disk space, mouse or other pointing device and SVGA color monitor with a .28mm dot pitch.
PC Users
Diet Software System RequirementsYour computer must be running under the Microsoft Windows graphical user interface operating system (OS). The following versions are supported:
Windows XP
Windows Vista
Windows 7
Windows 8
Note: We cannot quarantee the functionality of our software products on the Windows 95, 98, NT, & 2000 platforms since support has been discontinued by Microsoft.
Mac Users
the following versions of Mac operating systems (OS) are supported:
Panther
Tiger
Leopard
Snow Leopard
Lion
Mountain Lion
Return Policy
Due to the sensitive nature of software media
all software purchases are non refundable unless otherwise stated
. Special conditions may apply. All licensed software products activated using the 25 digit product key provided at time of purchase cannot be returned nor refunded. Products approved for refund or return may be subject to a restocking fee. Ask your customer service representative for more details.
All hardware returns will be subject to a 35% restocking fee and must be returned within 30 days from the delivery date. All items must be returned in the original manufacturer's box or packaging or refunds will be refused. Please call to receive a Return Materials Authorization (RMA) number prior to returning your product.