DietMaster Web - Business Class Solutions for Online Meal Planning, Food and Activity Logging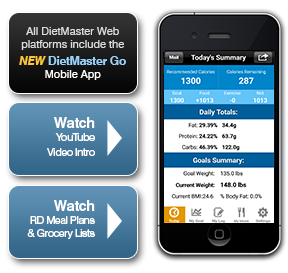 DietMaster Web is a business class subscription-based online meal planning, logging and exercise tool used by medical & wellness organizations, nutritionists, health clubs and fitness professionals, web-based service businesses, supplement companies and educational institutions. The DietMaster Web product is the offspring of our popular DietMaster Pro series of CD products but developed in a web-based format to allow shared-access and data between you and your customer and can be accessed anywhere having a high speed internet connection. All DietMaster Web subscriptions include end-user access to the DietMaster Go mobile app.
The DietMaster Web family is offered in four platforms. Depending on which platform you choose, the primary functionality can include access to ready-to print meals designed by our team of Registered Dietitians, logging meals and exercise activity, body composition and goal tracking, fitness assessment and aggregate data reports for ROI measurement and contest ranking reports. For the professional dietitian, new features include the ability to build meal plans real-time and post them for customer access. Meal plans can be constructed following your proprietary protocols and even include supplement or food products of any brand.
Finally...any version of DietMaster Web can be branded with your own header and linked to your web site. Advanced scripting is available on some platforms for pass-thru of login access from your front-end web site, HRA integration, eCommerce shopping cart integration and custom APIs. Ask us for more information.