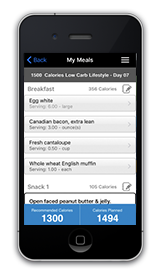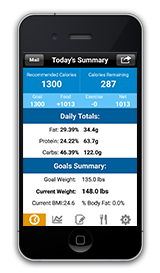 Mobile technology has made our lives so much more convenient. We have immediate access to things anytime and anywhere. With our DietMaster Go mobile platform you can send meal plans and grocery lists right to your customer's mobile phone! This way your customers have access to their plan regardless of where they are. This convenient method means higher levels of compliance and better results. Mobile app delivery of meal plans can come from our library of pre-built meal plan templates designed by dietitians or doctors, or build your own custom meal plans using our DietMaster Web or DietMaster Pro desktop software products.
Features
The DietMaster Go mobile client app is free to download with your paid DietMaster Web product subscription. Here is a list of the features available to you from our Internet and mobile nutrition program:
DietMaster Go Mobile App
full syncronization with web account
online administrative console for tracking & management
meal plans & grocery lists sent to mobile app
log eating and exercise activities
exchange foods for preferences
add custom foods
track weight
messaging features
Branding
Our mobile branding services will give your company and service a mobile market presence. Your app name will be listed on iTunes, Apple App Store and the Google Play Store. Our private label branding service is a one-time fee of $2,300.00. Contact your DietMaster product specialist to learn more about this unique opportunity.
Compatibility
DietMaster Go Mobile App - works with all Apple iPhone, iPad and Android smart phones. Ask your product specialists for details.