DietMaster Med - Weight Management System
DietMaster Med is the most complete and accurate weight management system available today.No other single product combines cutting-edge technology and tools that deliver a more simplified turnkey approach to providing weight management and disease prevention services to your clients.
Lifestyles Tech, publishers of DietMaster Pro software, have integrated Tanita Corporation's bio-electrical impedance body composition analyzers and Korr Medical's Metabolic Measurement system into the DietMaster Med solution. The end result is one of the most accurate assessments available today.
DietMaster Med
- $12,995.00 (Apply for our DietMaster Med lease program)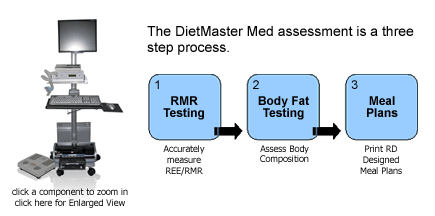 System Review Video - No audio
Professional Onsite Installation & Training is available for $900.00.
Training includes unlimited attendees and is specific to teaching the consulting process. Travel related expenses will be billable to customer. Call us for more details.
Lease the DietMaster Med System beginning at $299.00 per month
OAC. Rates may vary based on lease plan, credit and time in business.

Premium Care Support Program - When you purchase a DietMaster Pro license you will receive one year of the Premium Care Program absolutely FREE. That means any upgrades, tech support needs or product training are free for a period of one year. Learn more.
*Note - The Bariatric Series of meal plans is only available to licensed doctors or health care providers.